40 - 45° C Temp Range, Liquid Crystal Sheet
Operating Temperature (°C):
+40 to +45
Operating Temperature (°F):
104 - 113
Regulatory Compliance
Product Family Description
Locate Electrical Shorts on Circuit Boards
Determine Insulation Voids
Map Heat Sinks
Easily Cut to Size
Temperature Sensitive Liquid Crystal Sheets are a durable solution for thermal mapping. Three to five micron-sized crystals dispersed within a polymer matrix exhibit total color spectrum response with temperature change. These Liquid Crystal (LC) sheets will retain their fast response and color characteristics for many months. Temperature Sensitive Liquid Crystal Sheets are durable and will not rupture unless subjected to abnormal pressure. The 12" x 12" sheets can easily be cut to size using scissors. These sheets are excellent for a broad range of testing applications, such as visual testing and evaluation. Only minimal experimentation is required to conduct tests and be able to interpret the results.
The Liquid Crystal Sheet Assortment Set (#61-161) includes six 6" x 12" x 0.007" LC sheets, one in each of the temperature ranges listed below. This sampler package is ideal for situations where the temperatures reached are not precisely known or fluctuate over broad ranges.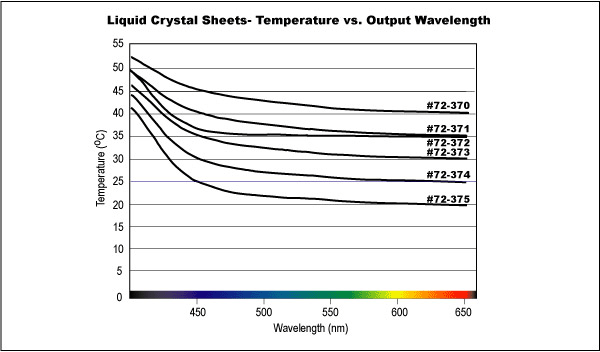 Technical Information
Specifications for Sheets Included with #61-161
Sheet Label
Red Start °C
Green Start (°C)
Blue Start (°C)
Clearing Point, Blue to Black (°C)
Bandwidth (Blue Start minus Red Start) (°C)
R20C5W
20
21
25
41
5
R25C5W
25
26
30
44
5
R30C5W
30
31
35
46
5
R35C1W
35
35.2
36
49
1
R35C5W
35
36
40
49
5
R40C5W
40
41
45
52
5