20mm Diameter Laser Diode Mirror
Dimensional Tolerance (mm):
±0.25
Dielectric Mirror (500-700nm)
Design Wavelength DWL (nm):
633
Regulatory Compliance
Product Family Description
Over 95% Reflectance of Visible Laser Diode Light
Ideal for Multiple Reflection Systems
Coating Optimized for 633nm at 45° AOI
These Visible Laser Diode Mirrors are specially coated to attain maximum reflection of visible laser diodes. Optimized for 633nm at a 45° angle of incidence, these mirrors provide 97% reflectance versus only 85 - 90% for standard first surface mirrors. This reduced loss is particularly important in multiple reflection systems, where loss can significantly impact system efficiency.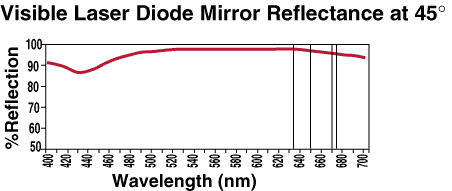 Technical Information
Reflectance Specifications (45° Angle of Incidence)
@ 500nm
95.0%
@ 550nm
97.0%
@ 600nm
97.5%
@ 633nm
97.0%
@ 635nm
97.0%
@ 650nm
96.5%
@ 670nm
96.0%
@ 675nm
95.0%
@ 700nm
94.5%